22 September , 2008

Open letter to Uday Kiran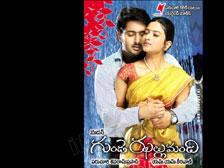 Gunde Jhallumandi--nijamga

Hi! Uday,
I am not really sure if you would read this mail wil but wanted to share my feelings about your beautiful movie "Gunde Jhallumandi" and after watching the movie "naa gunde nijamgane jhallumandi". Be proud and feel happy and we really appreciate your sincere effort.
To begin with, we went to this movie at imc6 in San Jose for a late saturday night show. Three of us planned to watch and we were joking amongst us through out our drive that the show might be cancelled because of no patronage. Surprisingly, we saw a few people already seated and by the time the show started there were already 35-40 people. This is its second weekend show and moreover on a late saturday night. I think deep down their hearts they wanted the movie to work.
I should say the producer and director are to be appreciated for the sole reason that they believed in the TRUE Lover boy Uday Kiran. Before the movie released, in an interview, you said that every family in AP wants you to come back. I am not sure how the movie is being recieved everywhere but let me tell you that this can be rated your second best movie after Manasantha Nuvve. People still want you to do well and they are not giving up on you. You just need to concentrate on publicity of this movie and take care of your future projects.
Madan handled the story reasonably well, though the quality of visuals on the screen was missing. Most strikingly, he connected all the dots and the emergence of Rajesh and use of Golconda fort in the climax showed that he is one of the most shrewed directors we really have. The heroine also played exceedingly well and I believe that of all the recent barrage we recieved she recieved the best score from me in terms of acting and she showed her acting prowess. Last three songs in the movie are very good. Comedy was superb and I saw people clapping in the later part of our Software Manager's show. The Kid was superb too and "endukante nu Balaraju kabatti" had me in splits for hours after the movie.
Finally let me talk about the TRUE Lover Boy. You are on a totally different level when compared to all other son"strokes" we had to recieve off late. You graduated from " mee peddolunnare" to amazing levels in acting and dialogue delivery. I believe that audience did not forget you and if luck favors then you might see good times again. I request you to concentrate on the publicity so that more audience gets to see this movie.
Good Luck and hope the lady luck showers!
With Best wishes,
A good movie lover!
PS