ABADDAM (2006)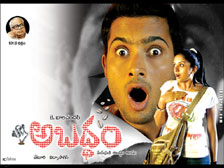 Genre: Love
Type: Dubbed (Tamil)
Banner: Duet Cinema
Cast: Uday Kiran, Vimala & Prakash Raj
Crew:
Music: Vidya Sagar
Dialogues: Shashank Vennelakanti
Lyrics: Veturi
Story - screenplay - direction: K Balachandar
Producer: Prakash Raj
Release Date: 23 December 2006


Vemana (Uday Kiran) is the son of a noble politician. He quarrels with his idealistic father and runs away from home to Sri Lanka. He starts his life afresh. He falls in love with a Telugu girl Shilpa (Vimala) at first sight. Shilpa is in Colombo visiting her sister and she wants to be a civil servant. She feels that love and marriage are an obstacle for women who want to make a career. The rest of the story is about whether fate allows their union or not.

1. K Balachandar's bhavukatha.
2. Uday Kiran's never-seen-before histrionics
3. The idea of creating the characters of fictitious father and fate. Then narrate the film using their conversations.

1. Second half of the film
2. Climax
3. Tamil flavour
4. The makers of the film did not even take the trouble to change the Tamil words into Telugu words (graphics).

1. The characterization of the childhood lover and his antics


Here are a few of good scenes in the film:
1. The opening shot of the film where a handicapped guy keeps getting water from the sea and fills a spot that has just been wetted by the waves.

2. Uday Kiran taking pocket money from Gods

3. Uday Kiran tells Bannerjee that he knows Bengali. When asked to speak in Bengali, Uday Kiran sings 'Jana gana mana'.

4. Uday Kiran calling her mom while singing 'ala' song in the second half.


K Bala Chandar is still capable of narrating a sensitive story very sensibly, but his commercial sense is completely out-dated.